A Smithsonian Journeys Members' Choice Tour for which I served as a Study Leader.
You might also be iterested in an educational program in Southwest Montana offered by Gibson Consulting.
Text and photos by Dick Gibson, © 2005
Back to Trips index
Dick Gibson is available to speak on the topics on this page.
Visit our Speaker's Bureau for details.
---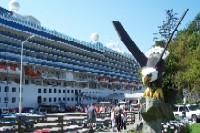 I arrived in Ketchikan on a record hot day - near 90 - and anomalously sunny skies. That weather persisted for days, to the point that locals were amazed. Ketchikan, a community of about 12,000 based originally on logging and fishing, is now a tourist town with traditional working corners. Creek Street (right), built on pilings above Ketchikan Creek, was once the red-light district, but is now mostly shops. Our ship, the Spirit of Endeavour, was tiny compared to the 12-story giants that blocked the coast of all downtown Ketchikan, which receives more than 900,000 visitors a year, most of which are disgorged from the tour ships (left). We only had 88 passengers (vs 2500 for the big ones) - 13 on the Smithsonian tour - and a crew of 27. I really loved the shipboard experience, so convenient to have your room right there - though I was rarely in my room. And I can strongly recommend Cruise West, the ship company. We boarded about 5 p.m., in time to get settled before dinner at 7.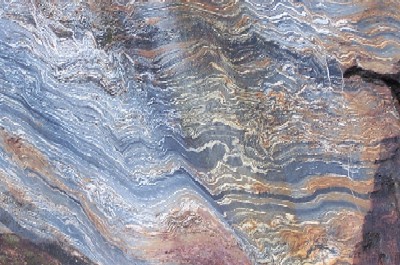 Overnight we sailed up a long, 1000-foot-deep fjord, Portland Canal, to Hyder on the Canadian Border, where we saw bears eating spawning salmon. Next day we went into Misty Fjords National Monument, much like a drowned Yosemite - similar granitic rocks, but much younger, around 50 to 70 million years old. The granite intrudes rocks that are so metamorphosed and contorted (left) that their age is uncertain. We were met by two young rangers who kayaked out to the boat and provided commentary en route. The early morning fog was so intense that they had difficulty finding our ship, and had to track us down by sound, but the later morning was spectacular, with mostly clear skies.
The rangers returned to their campsite on the New Eddystone Rock, a dramatic, 237-foot vertical spire in the middle of Behm Canal, another deep glacial trough. The Rock is the remnant of a basalt plug less than 5 million years old - presumably the glacier deflected around it, unable to eradicate it completely. That afternoon we put in to Metlakatla, the only Indian Reservation in Alaska (Tsimtshian tribe) for tribal dancing and such. Metlakatla's permanent population is only about 1000, and the port facilities only permit docking of small ships such as ours. Likewise, Hyder (population maybe 150 on a good day) is not visited by the big cruise ships.
Except for the glacially scoured fjords and highest peaks, all of southeast Alaska is dominated by trees - bazillions of them. It would be a real pain to map geologically - need a kayak for sure.
Head of Portland Canal fjord, near Hyder
Bear chasing spawning salmon, Fish Creek, near Hyder
Kayak rangers approach New Eddystone Rock
Misty Fjords
Dancing at Metlakatla
Overnight sailing took us to Petersburg, with humpback whales on the way, then on to Glacier Bay where we picked up another ranger naturalist. We sailed all 65 miles up the west arm, to Margerie Glacier which calves into the bay, and adjacent to 2-mile wide Grand Pacific, a glacier black with morainal material all over it. We saw a couple hundred sea otters floating on their backs and cracking shells, sea lions hauled out on Marble Island (Silurian marble), more whales, and lots of birds.
Sunrise approaching Petersburg
Sea Lions at Marble Islands
Dikes and sills in Silurian limestone and marble
Margerie Glacier, Fairweather Range (15,300 ft) in background. 170-foot high, 800-foot long cruise ship for scale.
By next morning we were in Peril Strait on the way to Sitka. Bald Eagles all over - the strait is less than a half mile wide in places, so we had good views (and the boat provided great binoculars for everyone). We also spent some time close up watching a salmon fishing operation - our captain used to be a fisherman, so he got permission. Sitka was more historic than touristy, including Sitka National Historical Park with both Indian and Russian history (Russians won a battle with native Tlingits there in 1804). Sitka, the capital of Russian America, was also the site of the turnover to the United States after the Alaska Purchase of 1867.
Overnight took us back through Peril Strait and into Frederick Sound, where those of us who were up early (6 am) were treated to an amazing display of humpbacks AND orcas (killer whales) cavorting, breaching, blowing, swimming close to the boat, across the bow, near each other - the captain said that in 17 years of plying those waters, he had never seen such behavior. An orca breaching completely out of the water looks like a sleek submarine - and of course, seems exceedingly unexpected!
Orca
Humpback whale sounding
Pack of orcas in Frederick Sound
After a couple hours with the humpbacks and orcas, we headed on to Tracy Arm, a fjord in the mainland not too far south of Juneau. An incredible place - granite again, but also highly cooked and contorted metamorphics. The walls are so steep (3000-foot cliffs drop into 1000-ft deep water) that they took the boat within 4 or 5 feet of "shore" - meaning the fjord wall. Spectacular weather enhanced our barbecue lunch on the outside deck - but the scenery made it pretty hard to sit and eat, at least for me. One of our group told me, "It has not been lost on the rest of us that you're having a good time!" 25 miles in, we were near the head. The Endeavour parked in a rather scenic spot (left) and we took the passengers out in zodiacs to the face of Sawyer Glacier, 10 per boat, three trips each boat - I got to go three times as a "guide" - the Endeavour carried 2 Naturalists (marine biologists) so with me there was a technical person on each 45-minute small-boat tour.
Thousand-foot-high cascades poured into waterfalls, and perched morainal material - probably 500 feet above sea level - showed the height of the ice just a few years ago. As recently as 1880, the two Sawyer glaciers were connected - but now Sawyer is almost a mile up from the junction, while South Sawyer is almost 3 miles back. South Sawyer has retreated at least a half mile in just the past 4 years. On the third sortie that I was on, the glacier calved in a big way - a chunk probably 80 ft tall by 15 or 20 ft wide crashed in, revealing the glacier's brilliant blue interior. Even though we were a quarter mile away, the tsunamis that reached us were plenty noticeable. After all that, back to the Endeavour and on a short way to the other arm - South Sawyer glacier. A really active one for calving - the whole boat got to see a major crash, and the big boat took the waves like the little ones had up in front of Sawyer Glacier.
Tracy Arm is simply amazing, and I hope you all have an opportunity to see it.
| | |
| --- | --- |
| | |
| Hanging Valley above Tracy Arm | Sailing in Tracy Arm |
| | |
| Cascades | On the small boat |
| | |
| Sawyer Glacier | South Sawyer - an active calving glacier |
Next morning we disembarked in Juneau, and typical SE Alaska weather finally caught up with us - rain, 56 degrees. I went with some of the group to a fish hatchery and to Mendenhall Glacier, and that evening we had a lecture from a local anthropologist. The weather continued next day, interfering with our flight to Anchorage which was 3 hours late, so in Anchorage we did nothing but eat and have my third evening lecture. Next morning, board the train - and the weather was a lot better, but still mostly cloudy. A pleasant ride got us to Denali about 3:30 pm - and the area was filled with oppressive smoke.
Alaska smoke August 14 • McKinley smoke August 14
Mendenhall Glacier in the mist
Smithsonian group on the train
Smoky sunset at Denali
Cantwell formation, syntectonic conglomerate, early Tertiary
Braided glacial stream, Denali National Park
That evening we had a really fine lecture on regional ecology from Nan Eagleson with the Denali Foundation. Next day was the standard bus ride into the park, and finally the weather was really against us - practically nothing was really visible beyond the glacial-silt-laden braided streams, and two caribou over on the hillside. Dinner the second night was a rousing dinner theater presentation, "The Music of Denali", a campy comedic show that I really enjoyed. Many of our people had optional tours the next day, which was bright and sunny, and those who took helicopter rides around the mountain were not disappointed. I did some local hiking and went to see the park sled dog kennels.
After the day of optional tours, we boarded the train about 4 p.m. Dinner on board included spectacular views of the Nenana River Canyon as we headed north to Fairbanks.
Denali sled dogs
Horseshoe Lake - ox-bow cut-off meander of Nenana River
- modern meander in background
Train passing through Nenana Canyon
Tundra-taiga - lots of biomass
Some folks had a day in Fairbanks, but for me it was arise at 4:30 a.m. for a 7:00 a.m. flight to Seattle, and on to arrive in Butte eventually about 8:30 p.m.