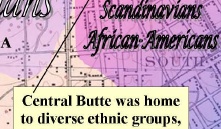 The Ethnic Map of butte is an 11x17-inch sheet showing annotated ethnic neighborhoods, from Seldom Seen to Williamsburg and Germania to Columbia Gardens. The base is an 1897 U.S. Geological Survey map. 35 notes provide information about most areas, and a few photographs add to the decorations.

Small snippets of the map are shown here. It can be purchased at the Butte-Silver Bow Public Archives, Old Butte Historical Adventures, Butte Chamber of Commerce Visitor Center, and Books & Books. To order by mail from Richard Gibson, call 406-723-9639 or email rigibson@earthlink.net. Cost is $5 per copy, plus $3.50 per order to mail in a tube. Checks should be payable to Richard Gibson. Thanks!

References and recommended reading: Butte Voices, by Pat Kearney; Mining Cultures, by Mary Murphy; and The Butte Irish, by David Emmons.
---